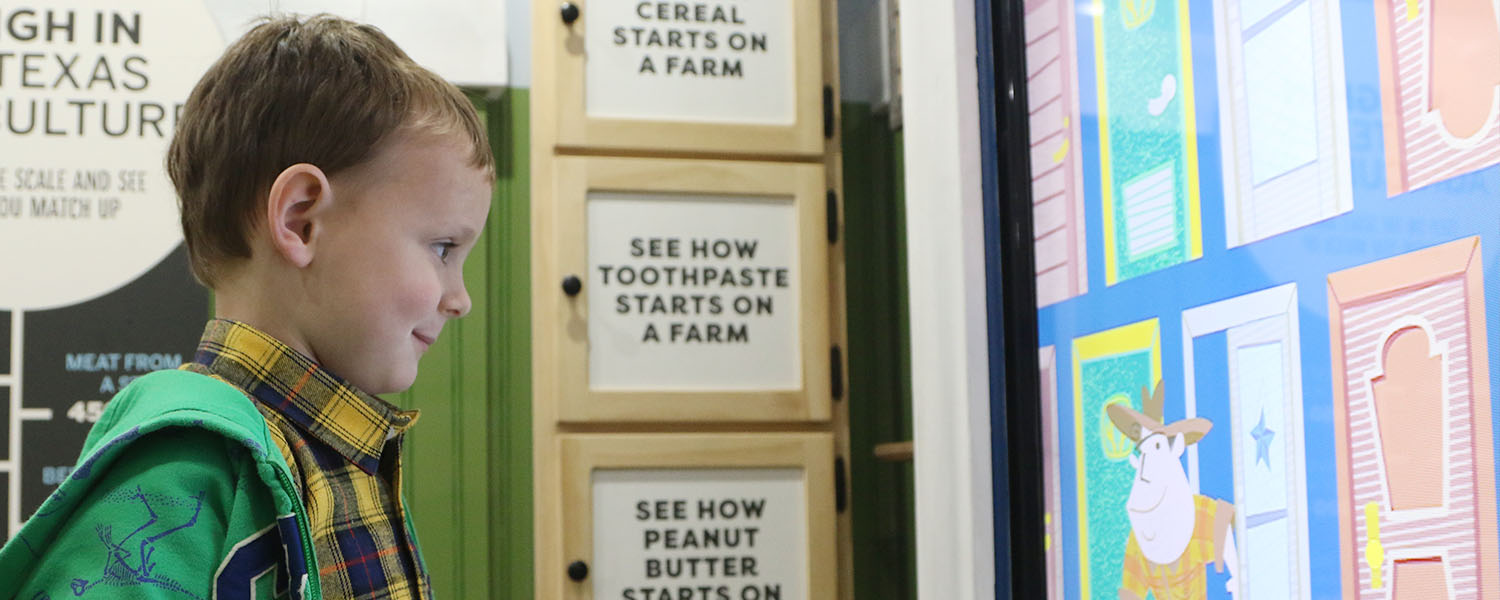 Responsible food. Grown by local farmers and ranchers. A vast array of crops and livestock are often grown close to your home.
But most Texans are now four or five generations removed from the farm. We think it's important they reconnect to agriculture. That's why we focus on facts through our traveling exhibits throughout the state.
From the great State Fair in Dallas. To the Rio Grande Valley Livestock Show. And many points in between. Doorways to Agriculture is Texas Farm Bureau's exhibit displayed at fairs and stock shows across the state. Opening the door to the captivating world of Texas agriculture.
Whether you live in the country or the heart of a big city, most items you use every day begin on a farm. Doorways to Agriculture is our way of inviting you in to discover all the ways Texas farmers and ranchers impact your life.
Snap a photo in our photo area. Dig into farm facts through games. Spin cotton into thread. Or stroll through our trailer to see just how much agriculture is involved in your life.
San Antonio Stock Show & Rodeo
Feb. 6-23
Rio Grande Valley Livestock Show
March 12-22
BucDays in Corpus Christi
April 30-May 10
East Texas State Fair
Sept. 25-Oct. 8
State Fair of Texas
Sept. 25-Oct. 4
Heart O' Texas Fair & Rodeo
Oct. 8-18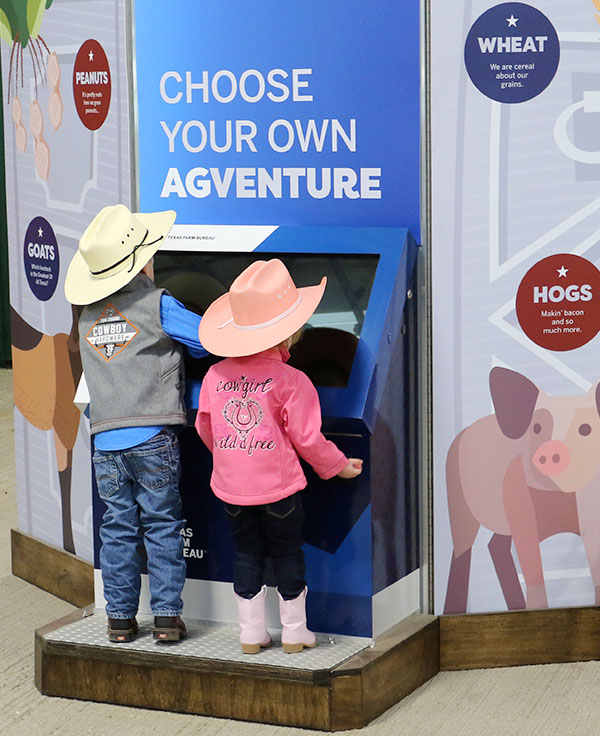 Flexible. Versatile. Hands on. Connect!
Agriculture has a great story to tell. And Texas Farm Bureau's Mobile Learning Barn is the perfect opportunity for county Farm Bureaus to tell it at agricultural fairs, Ag Days, county livestock shows and schools.
The trailer can feature up to seven different crops and livestock, including corn, cotton, grain sorghum, pork, cattle and others. Samples of different commodities and their by-products are also displayed. It's not only visual, but interactive, as well.
Nine mobile learning barns are placed across the state.
To learn more or book a unit, contact your local county Farm Bureau office, email MLB@txfb.org or call 254.751.2273.